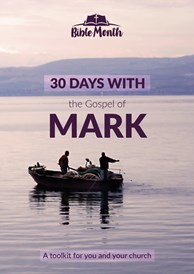 Bible Month 2021 will be on the Book of Mark and here in Over we will be looking at it during the month of June.
Bible month gives us a chance to have an in-depth look at a particular book or topic in the bible over the course of a month and to share in the same themes as other Christians which makes it easier to talk and share with each other. If you don't worship in one place every Sunday during the month then the good news is that we will be covering the same topics (with different preachers) in all the churches in the circuit on the same weeks. Details for the Sunday worship opportunities will be in the weekly worship sheet distributions and will be posted on the calendar for online opportunities in due course.
We will be thinking about Mark as follows:
Wherever in the circuit you worship on those Sundays the preacher will be considering the passages above. Get in touch for a Zoom service link if you'd like to join, it's easy to use on any device (phone, tablet, computer) and you would find a warm welcome.
If you'd prefer to catch up with a telephone service the details are on our worship page.
We are offering a series of study sessions on topics each week where we will be considering the sections of Mark:
Identity and Mission
Mark 1:1 – 3:35
Mission and Boundaries
Mark 4:1 – 8:21
On the way
Mark 8:22 – 10:52
Passion week
Mark 11:1 – 16:8
Tue 1st June 7:30pm
Tue 8th June 7.30 p.m.
Tue 15th June at 7.30pm
Tue 22nd June 7.30pm
Wed 2nd June 7:30pm
Wed 9th June 7:30pm
Thu 17th June at 7.30pm
Wed 23rd June 7:30pm
Fri 4th June 2:30pm
Fri 11th June 2:30pm
Fri 18th June at 2:30pm
Fri 25th June at 2:30pm
The zoom link is available in the worship sheets, If you don't have it please get in touch you would be warmly welcomed to attend.
Bible Month (methodist.org.uk)
David Suchet read the book of Mark in St Paul's Cathedral in 2017. It's a great listen and available on YouTube here: